The Old and the New Steam Data Suite
With the release of the new version of Steam Data Suite, we're taking a quick look at how the app structure changed, which solutions were already there, and which ones were added.
On the new performance pages you will find summaries of your Steamwork account's performance, whether that be of your entire portfolio or per game. The performance overview page also lets you zoom in on sales performance by country, distribution channel, and operating system.

The market feature is an upgrade of the old Niche explorer. With it, you can browse the entire Steam platform to assess benchmarking numbers including estimated sales, wishlists, and revenue for any game. The page also reports no. of reviews and followers summarizes game segment performance and reports the benchmarks of similar games to yours.
The metrics pages are completely new and summarize the most important metrics of your games, including impressions generated, store page visits, conversions, sales revenue, and reviews. It allows you to get a quick snapshot of the most crucial metrics of your games' store pages.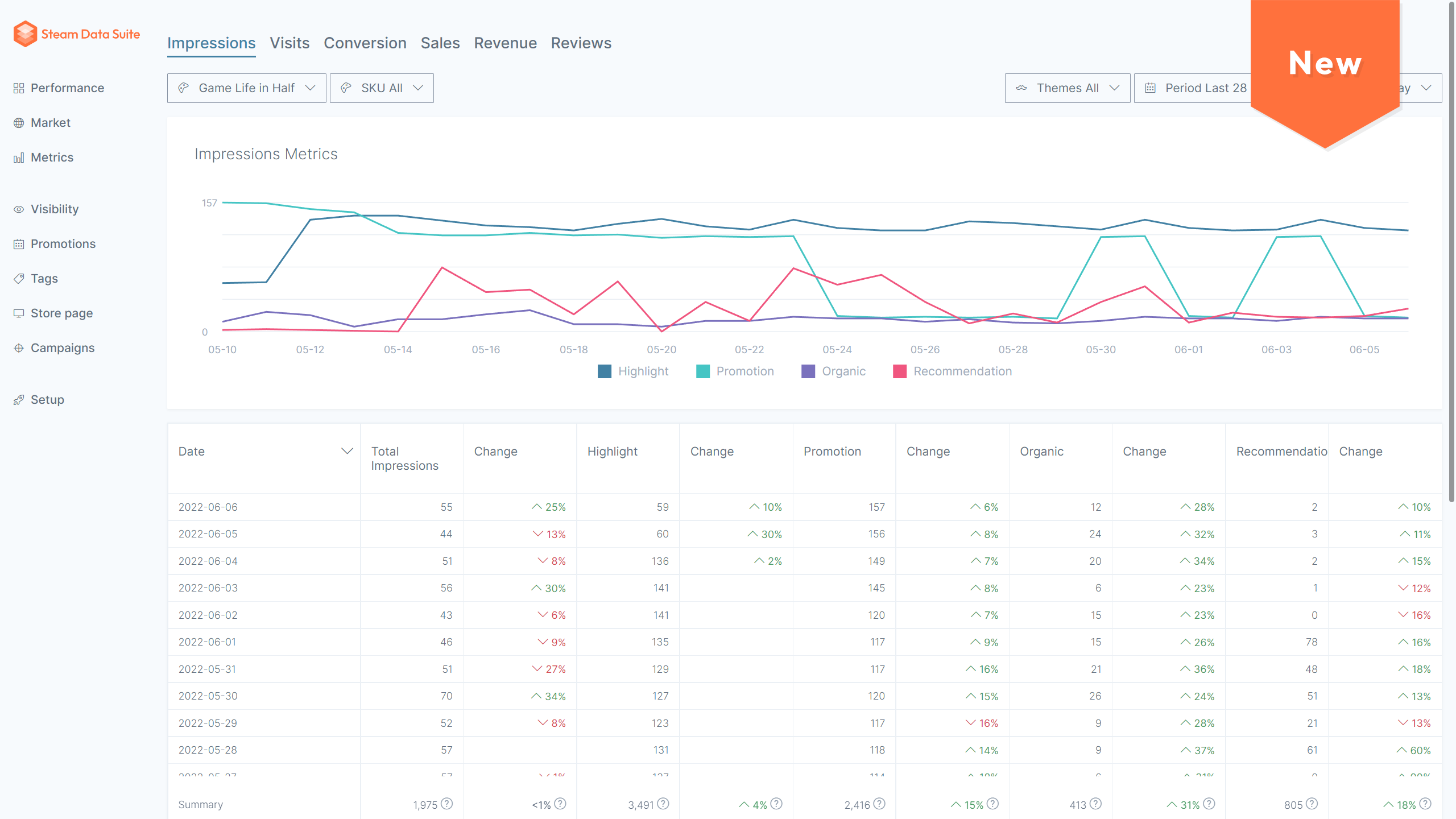 The visibility solution combines old tools with new ones. Within the explore set, you can compare your games' visibility elements and store assets with those of their competitors. Within the optimize step, you will find visibility performance reports which reveal which pages and elements within the store generate traffic to your store pages. Here you can determine where traffic generation is underperforming, and optimize elements of your store presence to improve visibility. Finally, the measure steps measure the outcome of your optimization efforts based on your games' ranking in the top sellers' list. 

The new promotions pages integrated the former sales events tool and covers everything in terms of sales & promotions. In the explore step, you can get an overview of all of your competitor games' prices and Steam follower trends. You can also single out one specific competitor to dive deeper into their price and follower history. In the optimization step, you can dissect your games' performance across different sales, whether that be for all games and events in the " All Events" tab, for just one of your games in the "Discounts by game" tab, or by Steam sale event in the "Discount by global sale" tab. The subsequent measure step provides a performance overview of any event for any of your games.

The tag solution combines innovations of the old tag uniqueness and tag explorer tools with new ones to help you optimize your tag compositions for visibility and discoverability. In the Explore step, you can research tag suggestions for your games, compare competitors' tag compositions, and browse the Steam store based on game tags and features. In the optimize tab you will find performance metrics for each iteration of your games' tag compositions. In the measure tab, you can then evaluate the effect of optimizing your tag compositions based on impressions, visits, and CTR for each relevant page within the store.

The store page solution consolidates all store page tools that were previously spread across the app. The explore step includes tools to help you monitor your competitors' store presence and store pages, such as the store competitor changes and asset comparison tool. In the optimize tab, you can assess your store page performance by version, country, and interval. 

The campaign tool now offers much more capabilities. You can now view your campaigns' performance not only individually by campaign, but by marketing channel as well. On top of that, the solution now hosts a channel marketplace where you can search for relevant agencies to support you with your game marketing.