The optimization platform for marketing, visibility and conversion on Steam
Store optimization for Steam pros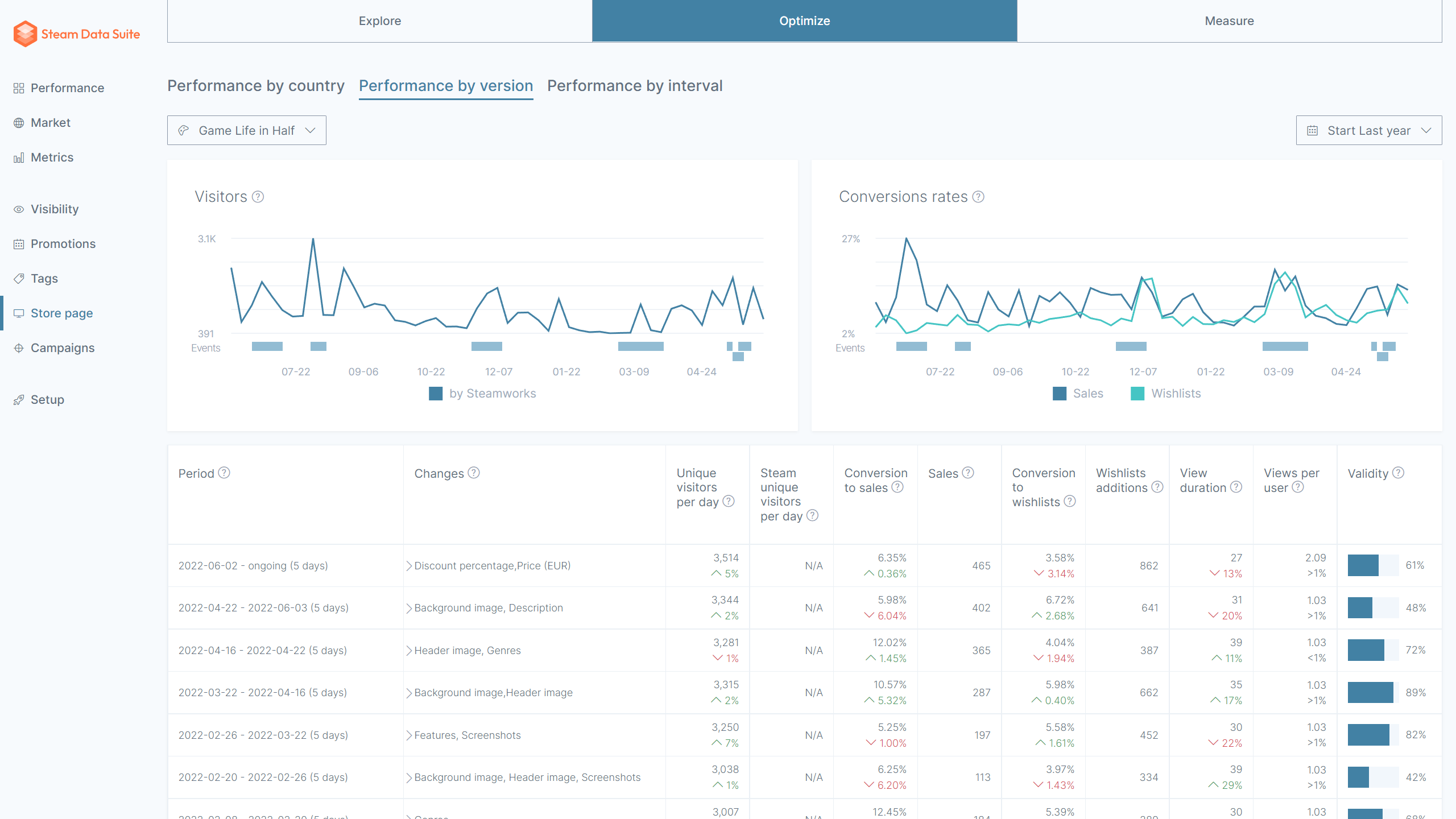 We optimize your
Steam presence
Steam Data Suite provides everything you need to get your games more attention, wishlists, and sales.
Our set of tools enables you to combine market data with your own sales and traffic data to gain valuable insights into every step of the sales journey of your players.
By streamlining the data processes you gain insights in real-time that empower data-centric decisions and higher levels of productivity.
Make the right
decisions, faster
Action-based, up-to-date dashboards and access to market data enable you to make informed decisions for both your games and business with confidence and speed.
This brings many benefits to our clients including:
Spending time more efficiently; on improvements with the most potential gain
Making better marketing decisions
Revenue growth
More involvement in data-driven decision-making by the whole team
Features and functionalities of Steam Data Suite
Unlock these advanced optimization and analytics opportunities that will save you time and earn you money.
Assess the impact of changes to your store presence and get more visibility and store page conversion.
Measure the conversion to installs and increase the effectiveness of all your marketing efforts.
Assess the impact of changes to your store page and get more conversions.
Identify tags by looking at the relevancy, competitiveness, and popularity of tags.
Get a better understanding of the market and your competitors.
Simple but rich dashboards for sales and wishlists support informed decisions.​
Comparing actual results to algorithmic predictions to help you find answers.
Get a complete view of all your game's performance metrics to identify and analyze trends.
"Steam Data Suite is able to tell us how the communication with our players, whether that be through ads, promotions, or engagement with content creators, directly translates to wishlists, sales & installs."
"As someone that needs to stay up to date with competitors' store pages, using Steam Data Suite has become an integral part of my daily routine."
"The amount of information from Steamworks can often be very overwhelming, I like the way SDS is able to compile it in such a neat, straightforward way."
"Steam Data Suite has entirely replaced Steamworks in my workflow. The consolidation of different data sources into one clear overview allows me to make more data-driven decisions, quicker."
"Steam Data Suite is my one-stop sales & marketing tool, to check my games' sales performance, correlate wishlist performance with social media engagement, or to keep a close eye on competitors' store pages."
"Steam Data Suite's solutions make my day-to-day much easier, especially when it comes to finding and researching similar games. I really enjoy using the platform"
"Steam Data Suite are the pioneers of store optimization on Steam. Their solutions provide endless capabilities to sell more games on the platform."
A globally recognized
platform you can trust
Helping over 500 companies since 2017 to increase their success on Steam taught us a lot. We see how valuable your data is, we know how to make numbers answer your questions, and we know how to fit into the day-to-day processes of game publishers.
We employ the highest standards to ensure Steam Data Suite is accurate, readable, and secure.
See the difference Steam Data Suite
can make in your workflow today